1. IDENTIFICATION, SUPPLIER & CONTACT NUMBERS
Product Name: EcoGrit Concentrate
Product Type: De-icer/Anti-icer/Anti-Corrosion
Supplier: EcoGrit.
Contact Number for technical information: 0800 193 6466
2. COMPOSITION & PROCESS
EcoGrit Concentrate is produced by mixing sodium chloride with evaporated co-products from the sugar, starch, cereal carbohydrate processing and distillation industries.
3. APPEARANCE & SMELL
Dark brown granule with a non-pungent smell.
4. HAZARDS IDENTIFICATION
– Inhalation: Not Applicable
– Skin contact: None under normal ambient conditions
– Eye contact: None under normal conditions
– Ingestion: None under normal conditions
5. FIRST-AID MEASURES
– Skin: May cause slight irritation, wash area with soap and water
– Eyes: May cause irritation, flood eye with water
6. ACCIDENTAL RELEASE MEASURES
Personal precautions: None under normal conditions
Environmental precautions: Biodegradable, increases BOD and COD – See 14
7. STORAGE CONDITIONS
Non or anti-corrosive: Store in a dry area. Avoid microbiological or dilution with water
8. TRANSPORT CONSIDERATIONS
Not considered hazardous or dangerous for conveyance
9. EXPOSURE CONTROLS/PERSONAL PROTECTION
– Personal protection: None under normal conditions
– Respiratory protection: Not Applicable
– Eye protection: Safety glasses may be desirable when emptying containers or drums
– Hand protection: Not required. Rubber gloves advised
10. PHYSICAL & CHEMICAL PROPERTIES
Physical state and 25 °C: Fine Granule
Colour: Very Dark Brown
Odour: Earthy, non-pungent
Initial boiling point (°C): >100
Freezing point (°C):
Density at 25 °C (kg/m3): About 1275, S.G. = 1.275
Vapour pressure (hPa): Not applicable
Viscosity (cps) at 20 °C: About 30
Solubility in water (% weight): Forms infinite aqueous solution
pH value as-is: About 7-8
Flashpoint (°C): Not applicable
Auto-ignition temperature (°C): Not applicable
Explosion limits (lower) (kg/m3): Not applicable
Thermal decomposition (°C): Begins about 100
11. STABILITY & REACTIVITY
Hazardous decomposition products: Burning can produce CO2 and water, N compounds
Materials to avoid: Strong acids and alkalis, oxidizing agents
12. MICROBIOLOGICAL STABILITY
Stable unless diluted with >5% water when yeast, mould and some harmless
bacteria (e.g. Lactobacillus spp.) growth may occur in warm temperatures.
Pathogens will not grow. Indeed, they are killed.
13. TOXICOLOGICAL INFORMATION
Acute toxicity: None, non-toxic
Chronic toxicity: None
14. ECOLOGICAL INFORMATION
No significant environmental hazard or adverse effect from human or animal
exposure resulting from accidental release of this material is anticipated. Its components are used in food and feed, and there is no LD50.
– COD (mgO2/g): About 350
– BOD (mgO2/g): About 335 (the Environment Agency)
15. DISPOSAL CONSIDERATIONS
Disposal: See section 6
16. TRANSPORT INFORMATION
Not applicable
17. REGULATORY INFORMATION
Symbol(s): None
R and or S phrases: None
18. OTHER INFORMATION
Recommended uses: As an Anti-icer, De-icer and Anti-corrosion liquid
The contents and format of this MSDS are in accordance with EC Commission
Directive 91/155/EC, as amended by Directive 93/112/EC.
The information in the MSDS was obtained from sources, which we believe to be reliable.
However, the information is provided without any warranty, express or implied, regarding its correctness.
The conditions or methods of handling, storage, use or disposal of the product are beyond our control and may be beyond our knowledge.
For this and other reasons, we do not assume responsibility and expressly disclaim liability for loss, damage or expense arising out of or in any way connected with the handling, storage, use or disposal of the product.
This MSDS was prepared and is to be used only for this product. If the product is used as a component in another product, this MSDS information may not be applicable.
END OF DOCUMENT
EcoGrit
20 Harbour View
Truro
Cornwall
TR1 1XJ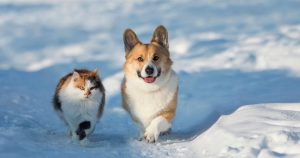 EcoGrit provides a fantastic ice melt that is environment-friendly and pet-friendly
Read More »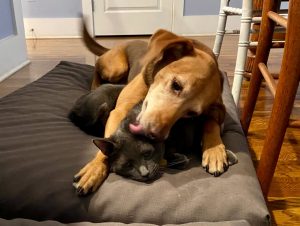 With the return of winter and the inevitable widespread use of rock salt gritting, the RSPCA is warning to check pets' paws and fur if
Read More »